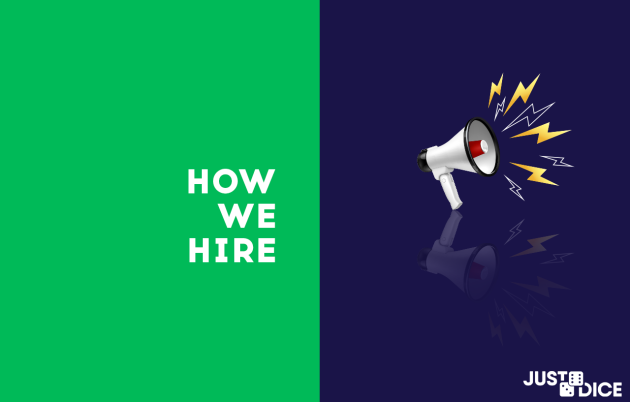 Searching and applying for jobs can be a long and occasionally stressful experience, especially if you've found an ideal position at a company you're excited about and want to send the perfect application. To make things easier, we believe in transparent hiring processes without surprises. That's why we asked Anna, one of justDice's Talent Acquisition Managers, to provide us with a breakdown of our hiring process. Hence, you know exactly what to expect when applying for a job with us.
justDice is a market-leading mobile app and game developer made up of fun, creative professionals, and we're constantly looking for new members to join us. Below, Anna shares her insights into our hiring process from a first-hand perspective, giving you the best chance of becoming one of us…one of us. 
So, What Does Our Hiring Process Look Like?
Anna 🗣️: At justDice, we believe that talent isn't necessarily reflected by special education or solely the most impressive CV. We encourage everyone interested in working with us to skip writing cover letters and tell us about a project they are most passionate about. It's important to note that we put in the extra effort and manually screen every application sent to us.
First, we have a first virtual call with the candidate. Because we hire internationally, we organise virtual face-to-face calls to people who could be thousands of kilometres away. We like to use this call to give the candidate a detailed insight into our business and culture. It's also interesting to see how the professional career on a CV comes to life when the candidates fill it with their personal stories. During the interview, we also like to check the candidate's professional skills but not on a hugely in-depth level.
The Second Phase
The 2nd step of the process is usually a test task where each person can showcase their skills. This is conducted remotely with a case study designed to reflect a task as close to the actual role as possible. To understand the thought process behind each solution, we invite the candidate to a 2nd (virtual) interview to get to know each other alongside the lead (manager) of the respective team.
Normally, a member of the respective will also join this call. This allows both the candidate and the hiring team to ask in-depth questions and gain an understanding of each other's way of working.
The last step of the process is a meeting with our Managing Director at justDice, where the company's vision is shared alongside any remaining questions.
Our General Hiring Process:
How Does justDice Assess Cultural Fit?
🗣️ justDice's unique culture comes from 26+ nationalities blending fun and professionalism. We also believe that 'corporate-style' barriers block progress and that a flat hierarchy with open communication is the best way to ensure productivity.
That knowledge, coupled with our previous experience, shows that our way of conducting calls with candidates – with transparency and without formalities – already serves as a filter to check if the talent's expectations align with how we work together here.
Advice for Applicants
🗣️ Be yourself! This might sound silly, but for some people, a job interview would be a time they would be shy and not show their true selves. Don't be nervous when speaking to us; we don't bite!
Next to that, keep it short and simple. Your CV should include the most important aspects of your career – everything else can be tackled during the first interview. And as mentioned before, skip writing cover letters. We're interested in hearing what you're passionate about!
One final note: If you're preparing for an on-site interview here at justDice, put away the business suit! In our office, you might see somebody wearing shorts and flip-flops, so imposing a dress code on anybody visiting us doesn't make sense 🙂
You've Conducted 100s of Interviews: Tell Us a Funny Moment
🗣️ As a Talent Acquisition Manager, you see it all, from lizards peeking into the call from the background or parents and partners starting to vacuum to cats, dogs or other pets demanding attention. I'm still waiting for the business shirt-sweat-pants-combo, though 🙂
Hiring Wins
🗣️ Hiring Florian, one of our Android Devs; having been at justDice for over 6 years, he was promoted to Tech Lead. He is now managing a large team of professional app developers – the main contributor to our success, together with Dmitriy.
How Can I Apply to justDice?
🗣️ Easy: Head to our Open Jobs page and follow the straightforward application process outlined on the page once you've found the perfect match. Remember to showcase your unique skills, experiences, and passions, as we can't wait to learn more about you!
So, why wait? Start your application today and take the first step towards a rewarding career. Click here to explore our open jobs!