Meet Matias, One of Our Developing Wizards
Our team here at justDice is a blend of fun and professional. And that's what these posts aim to unlock. We want the Humans of justDice features to focus on getting to know the people and minds behind the scenes. We'll get to know a different team member every month, giving you an exclusive look into how we work together here at justDice 🙂
Matias (aka Matty) hails from sunny Chile in South America and made Hamburg his home in 2017. Having celebrated his 4th anniversary in the company in 2023, he has cemented himself into our apps team. He is now taking the reigns as a principal full-stack developer, bringing his technical leadership and expert development skills to contribute effectively to our mobile app development process. Below, we got to know him better and hear how his life at JD has been so far. Enjoy!
Q1: Let's start with the obvious: What exactly do you do at justDice?
I'm a Principal Software Engineer, fancy I know hahaha. I work with the apps team making honest play-and-earn rewarded products. We bring to life ideas that the Marketing team, or anyone in the company, has about rewarding our users for installing and playing our offered games. So it's really cool cause we can test different languages, UX/UI, flows, animations, etc. For example, now we're working on a full-based animation app so that we will work with Kotlin + Lottie; stay tuned….
Q2: In your time here, what has been your favourite project?
I think from all the languages, frameworks & libraries we have tested, my favourite thing I've worked on is the native language app Kotlin. It is a friendly language with all the potential of Java, and well designed and easy to use. And with Kotlin, you also have access to all the potential and functionalities of mobile devices, meaning you can be as creative as you want!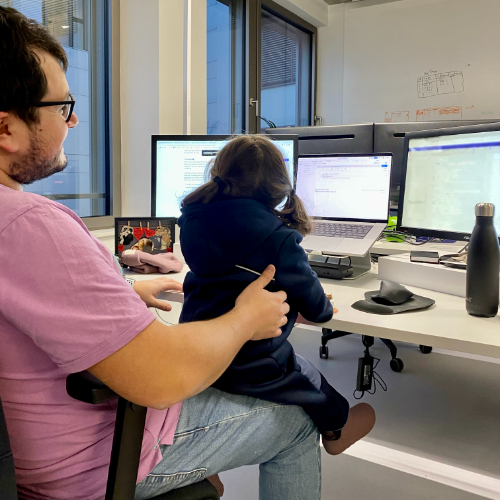 Matty and his daughter, aka the lead developer!
Q3: What has been your biggest accomplishment here so far?
Ufff, I could say so many things. I still remember the first time I published a new app & then updated it, thinking all the time, did I miss something? Will I break production? Obviously, I was always accompanied by one or more colleagues, but I learned a lot during that launch. Or the new projects we have worked on, like testing Unity, Kotlin & React, where we have to invest time learning these new languages and frameworks. I really enjoy learning new tools and languages. At justDice, you can push to test new things all the time, which I also love.
Q4: Detail a challenge you've had to overcome.
I think it was validating my skills; I came from a non-dev area, and I studied Business Administration and started learning programming by myself like ten years ago. While working for a company in Chile, I moved from the admin to the dev area. justDice was the first place I applied directly as a developer, and they helped me from the beginning; look at me now!
Q5: What makes justDice unique compared to others you have worked for?
I think there are 2 things: the people from every part of the world, big and small countries, that work together to push and grow this amazing company. The second is the entrepreneurship environment that still exists. Besides being a big company, you can still see Carlo & Jonas (the CEOs) at the office every day; you can talk with every Director, Lead, PO, etc., without needing to go through any organizational hierarchy.
Q6: How do people collaborate and work together in our team?
At every moment, we start our day with our daily standup, where we talk about yesterday's and today's tasks and are always open to discussing and asking for help. We try to find different approaches/solutions for a single task, and if I reach a no-end point with any of my ideas, I can raise my hand and ask the team for help.
A caged animal awaiting release to eat!
Q7: What is one thing you cannot live without?
Without cake at the office. I think it's a proper way to celebrate any achievement, birthday, anniversary, and food, as always, is the way to join people around a table. And the delicious and good coffee in the office is the best combination ever, Kaffee & Kuchen (coffee/cake in German).
Q8: What's a fun fact about you that many people may not know?
I'm 35 (I know I look younger), and I've been a volunteer firefighter in Chile (all firefighters in Chile are volunteers) since I was 16. I also love working next to a window to open it from time to time (stoßlüften!!!!) and having a warm cup of coffee even in winter, sorry not sorry to my colleagues 😂.