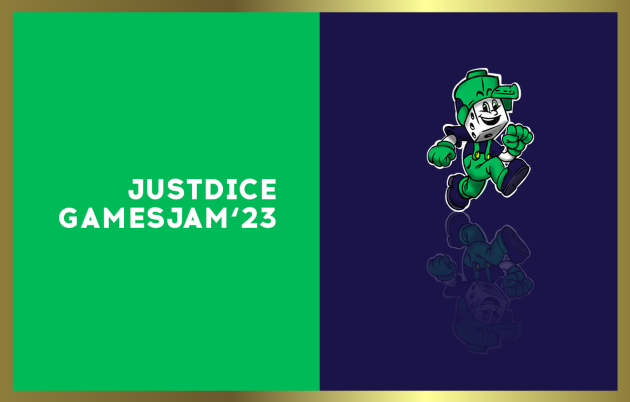 Our Epic Games Jam 😎
Hello, gaming enthusiasts. We wanted to share the details of our latest adventure – the justDice Games Jam! As a market-leading app and game developer in the play-and-earn genre, we believe in fostering creativity and innovation in our industry. Our jam brought together talented individuals from various departments to create some awesome games!
A Burst of Inspiration
At our HQ in Hamburg, the jam consisted of game developers, artists, QA, and anyone who wanted to join! It aimed to take us out of our day-to-day and ignite our creative brains to produce whatever game came to mind. With three teams participating, it was also a chance for different departments to mix and collaborate.
The Game Lineup
The theme was: Last Second Change!
With that, three very different games were created, each showcasing various gameplay mechanics, visuals, and some rather unique storylines. Let's dive into these creations:
"CakeRun": This is a first-person platformer in which you have to get the cake to the end of the level as fast as possible. You have various movement possibilities like double jump, dash, wall-running, grapple hook, and sliding. Additionally, you can enter slow motion and change the direction of your current movement into the looking direction once you exit the slo-mo. Lastly, you can shoot orbs to boost speed and refill your slo-mo time.
"White Room": In The White Room, the player must confirm or deny a series of questions (e.g. there are six blue cubes) using two buttons that indicate the exact number of basic coloured shapes found in the area. The rest of the level is white. The player has limited time to make a true or false decision: the more correct answers, the more elements are introduced while the time continues to shorten.
"Creamy": Creamy is a horde survival game where you play as a cake, trying to defend itself from zombies (with faces of our colleagues plastered on them). The cake-eating zombies are killed by dousing them in creamy frosting. The horde constantly pushes, and the game runs in slo-mo to give you time to choose where to shoot next. Once you do, the game speeds up for one dangerous second, where it's kill or be killed before slowing back down, letting you breathe and pick the next target.
Collaboration and Fun
The justDice Games Jam was about creating games and fostering collaboration. Developers, artists, designers, and more worked hard exchanging ideas and supporting each other in the concept and development process. Those with no game dev experience learned (on the very surface) how a game goes from concept to being playable. Meanwhile, devs, artists, and designers had the opportunity to work with people they wouldn't usually, gaining fresh ideas and perspectives.
Beyond the creative process, we infused the jam with our signature upbeat atmosphere. Fahmy, one of our Unity Game Developers, organised the event and ensured laughter, friendly competition and collaboration were at the forefront, creating an environment where everyone felt motivated to create something awesome.
Conclusion
Hosting in-office games jams offers many benefits. They encourage creativity, innovation, and collaboration among the team, getting us to think outside the box and explore new ideas. Games jams also provide a platform for skill development, risk-taking, and experimentation, resulting in valuable insights and, occasionally, potential prototypes for future projects.
Until next time! 🫡